Bookshop Template
Info: Premium Magento Template, Published: December, Hits: 431
Content System (CMS): Magento CMS
Template Publisher: JoomlArt
Template Framework: Unknown
Template Category: Magento Premium Templates
Template Description
A dedicated responsive Mageno theme for books only - JM Bookshop. Compatible with both Magento 1.7 and Magento 1.8, the theme features flat design with clean layout, responsive design, Off-canvas layout, Mega Menu and many more features. To attract bookaholics, JM Bookshop is designed to show off the covers and details of each book item excellently. This responsive Magento theme comes with up to 9 powerful Magento extensions, including Mega Menu, JM Masshead, JM Slideshow 2, JM Product Slider, JM Tabs, JM Product along with JM Quickview. Especially, JM Product Deal is featured for groupon-alike landing pages, and also JM Basetheme as your best theme-personalizing tool. Finally, among JM Bookshop 6 built-in skin colors, don't forget to check the Christmas theme skin for you to rock this Xmas event!
Template Features
Full Responsive Magento theme

Off-canvas menu


Supports Mega Menu

Product Quickview

Color customization with JM BaseTheme

JM Product Deal

Supports multiple languages and currencies

FF4+, Opera 9.6, Safari 3, IE7, 8, 9 Compatible

W3C XHTML 1.0 Strict. W3C CSS Valid
Try it first
Bookshop - Demo
Get it here
Template Download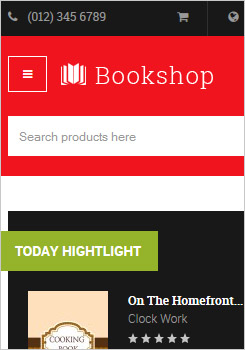 About Publisher
JoomlArt is one of the most popular Premiumfessional high quality Templates and Themes club for Joomla 2.5 and Joomla 3.0 Templates, Magento Themes and Drupal themes.