Lingerie Template
Info: Premium Magento Template, Published: November, Hits: 433
Content System (CMS): Magento CMS
Template Publisher: JoomlArt
Template Framework: Unknown
Template Category: Magento Premium Templates
Template Description
Make your store stand out this summer with responsive Magento theme JM Lingerie. JM Lingerie comes with sophisticated design and a wide screen slideshow with smooth transition effect brings a great impression for your store. This theme is packed with various Magento extensions such as JM BaseTheme for the ease of color customization, JM Mega Menu with custom block displayed, JM QuickView for an auto-update shopping cart and especially the off-canvas navigation for the ultimate mobile and tablet display. All in Magento theme JM Lingerie.
Template Features
Full Responsive Magento theme

Base theme

Mega Menu

Language switcher

Clean block layout

Complimentary extensions

FF4+, Opera 9.6, Safari 3, IE7, 8, 9 Compatible

W3C XHTML 1.0 Strict. W3C CSS Valid
Try it first
Lingerie - Demo
Get it here
Template Download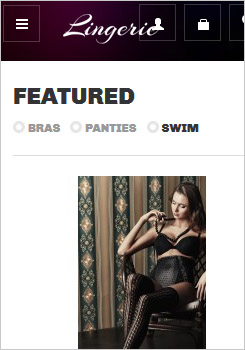 About Publisher
JoomlArt is one of the most popular Premiumfessional high quality Templates and Themes club for Joomla 2.5 and Joomla 3.0 Templates, Magento Themes and Drupal themes.