MegaMall Template
Info: Premium Magento Template, Published: December, Hits: 430
Content System (CMS): Magento CMS
Template Publisher: JoomlArt
Template Framework: Unknown
Template Category: Magento Premium Templates
Template Description
Responsive Magento theme JM MegaMall brings a dynamic and professional outfitter for any ecommerce sites possessing a huge range of products list. With the adaptable design focusing on separate clean blocks for items, JM MegaMall can fit in a variety of e-stores including fashion, souvenir, digital, electronic stuff or retail store. Supporting both Magento 1.7 & Magento 1.8, the theme JM MegaMall is fully responsive and packed with Mega Menu, JM Basetheme, JM Product, JM Product Slider, JM Quick View, JM Masshead and JM Slideshow. Also this Magento theme features our new extension JM Advanced Search for better items filter. The Christmas theme skin is added along with 5 more build-in colors for you to choose. If you own a store with a variety of product ranges or a market place then this Magento theme JM MegaMall is surely a perfect candidate for you.


Template Features
Full Responsive Magento theme

Fully responsive theme

Advanced Search

Practical theme customization tool JM Basetheme

Off-canvas menu for Mobile

Support Quick View

Supports multiple languages and currencies

FF4+, Opera 9.6, Safari 3, IE7, 8, 9 Compatible

W3C XHTML 1.0 Strict. W3C CSS Valid
Try it first
MegaMall - Demo
Get it here
Template Download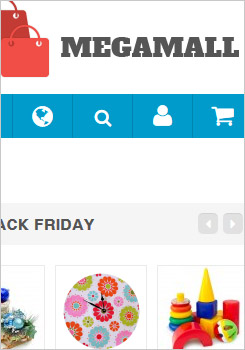 About Publisher
JoomlArt is one of the most popular Premiumfessional high quality Templates and Themes club for Joomla 2.5 and Joomla 3.0 Templates, Magento Themes and Drupal themes.