Monsieur Template
Info: Premium Magento Template, Published: January, Hits: 260
Content System (CMS): Magento CMS
Template Publisher: JoomlArt
Template Framework: Unknown
Template Category: Magento Premium Templates
Template Description
The all new responsive Magento theme - JM Monsieur, perfect fit for menswear fashion stores. Classy and luxury, fresh and dusty, our responsive Magento theme JM Monsieur is great for grand fashion shops for him. Using mostly black and white colors, the theme promises a strong impression for anyone at the first glance. The theme is packed with a long list of Meganto extensions: Mega Menu, JM Basetheme, JM Product List, JM SlideShow, JM Masshead and JM Quickview. One small added thing: you have 5 default built-in colors to switch before you discover more choices with tons of color variations in JM Monsieur. You want to grab attention of shoppers? Responsive Magento theme JM Mousieur will do it for you.
Template Features
Full Responsive Magento theme

Fully responsive theme

Off-canvas menu on Mobile

Color customization with JM BaseTheme

Support Mega Menu

Support multiple languages

FF4+, Opera 9.6, Safari 3, IE7, 8, 9 Compatible

W3C XHTML 1.0 Strict. W3C CSS Valid
Try it first
Monsieur - Demo
Get it here
Template Download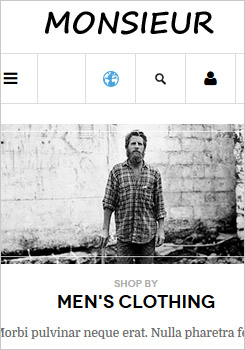 About Publisher
JoomlArt is one of the most popular Premiumfessional high quality Templates and Themes club for Joomla 2.5 and Joomla 3.0 Templates, Magento Themes and Drupal themes.